The safest and most comfortable way for pets to travel is inside a carrier or crate.
When making travel decisions, choose what is safest and most comfortable for your pet. For instance, unless you'll be able to spend a lot of time with your dog, he'll probably be happier at home than following on your trip. Traditionally, cats are almost always better off in their own home.
But if you have decided it's best to bring your pet along, follow our tips for a safe and low-stress trip.
Contents
Traveling by car with pets
Traveling by airplane with pets
Traveling by ship with your pet
Traveling by train with your pet
Traveling by car with pets
Do you know the most ideal place for your dog or cat in your car? Read on.
Dogs shouldn't roam in the car
The safest way for your dog to travel in the car is in a crate that has been anchored to the vehicle using a seatbelt or other secure means. Dog restraints or seat belts are useful for preventing your dog from roaming around the car and being a distraction to the driver, but they haven't been reliably shown to protect dogs during a crash.
Cats belong in carriers
Most cats aren't comfortable traveling in cars, so for their safety as well as yours, keep them in a carrier. It's important to restrain these carriers in the car so that they don't bounce around and hurt your cat. Do this by securing a seat belt around the front of the carrier.
Leave the front seat for humans
Keep your pet in the back seat of the car. If an airbag deploys while your pet is in the passenger seat (even in a crate), it might injure your pet.
Keep those heads inside!
Dogs and cats should always be kept safely inside the car. Pets who are allowed to stick their heads out the window might be injured by particles of debris or made sick by having cold air forced into their lungs. Never transport a pet in the back of an open pickup truck.
Every year, animals are killed, injured or lost on commercial airlines.
Give your pet a number of rest stops
Stop frequently to allow your pet to exercise and eliminate. But never permit your pet to leave the car without a collar, ID tag and leash.
Bring along a human buddy
Whenever possible, share the driving and pet caretaking duties with a friend or family member. You'll be able to get food or use the facilities at rest stops knowing that someone you trust is keeping a close eye on your pets.
Don't ever leave your pet alone in a car
A quick rest stop may feel like no time at all to you, but it's too long to leave your pet in a car by themself. One hazard is heat: When it's 72 degrees Fahrenheit outside, the temperature inside your car can heat up to 116 degrees within an hour. On an 85-degree day, even with the windows slightly open, the temperature inside your car can reach 102 degrees in just 10 minutes. If you're held up for 30 minutes, you may return to a car that's 120 degrees inside and a pet who is suffering irreversible organ damage or death.
A year-round hazard is the unspoken invitation you issue to pet (and car) thieves any time you leave your pet alone in a car.
If you see a pet left inside a hot car take these steps to help them. "
Get the word out about the dangers of leaving pets in a hot cars by printing our Hot Car flyer (PDF), posting it in public places, and sharing it with your friends, family and coworkers.
Traveling by airplane with pets
For those with adequate budgets you should contact PetJets.com who offer a variety of aircraft that you and your pet can travel on together.
Before booking a flight for Fido, you'll want to think through all your options.
Air travel can be risky for pets. Consider using a Pet Air Transportation service.
The HSUS recommends that you weigh all the risks when deciding whether to transport your pet by airplane. Air travel can be particularly dangerous for animals with "pushed in" faces (the medical term is "brachycephalic"), such as bulldogs, pugs and Persian cats. Their short nasal passages leave them especially vulnerable to oxygen deprivation and heat stroke.
Consider all the alternatives to flying. If you plan to bring your pet on vacation, driving is usually a better option. If you can't travel by car, your pet will probably be healthier and happier if you leave them behind under the care of a pet sitter or boarding kennel. But there are times when that won't be possible and you'll have to determine whether the benefits of flying outweigh the risks.
If you decide to fly with your pet, choose the cabin when possible
If transporting your pet by air is the only option, find out whether they can travel in the cabin with you. Most airlines will allow you to take a cat or small dog in the cabin for an additional fee. But you must call the airline well in advance; there are limits to the lot of animals allowed in the cabin If you are transporting your dog, make sure they meet the size requirements. If you get overwhelmed by all the regulations, there are companies that can help you navigate through the process of flying with a pet.
Ask these questions if your pet is flying in the cabin.
When you contact the airline, be sure to get clear answers to these questions:
Will the airline allow you to take your cat or small dog in the cabin with you?
Does the airline have any special pet health and immunization requirements?
Does the airline require a specific kind of carrier? Most airlines will accept either hard-sided carriers or soft-sided carriers (which may be more comfortable for your pet), but only certain brands of soft-sided carriers are acceptable to certain airlines.
If you can't take your pet in the cabin, does the airline have any restrictions on transporting your pet in the cargo hold?
Take precautions when bringing your pet through airport security
Your pet's carrier will have to pass through the security screening along with you. You have two options: Either be sure your pet is securely harnessed so you can safely contain them outside their carrier while it's being x-rayed, or request a special secondary screening that won't require you to take them out of their carrier.
Be aware of the dangers of flying your pet in a cargo hold
While most animals flown in the cargo area of airplanes are fine, you should be aware that some animals are killed, injured or lost on commercial flights each year. Excessively hot or cold temperatures, poor ventilation and misuse are often to blame.
Most U.S. airlines are required to report all companion animal incidents that occur in the cargo hold, and consumers should study the performance record of any airline before choosing to fly your pet in a cargo hold
Follow these tips if your pet must fly in the cargo hold.
If your pet must travel in the cargo hold, you can increase the chances of a safe flight for your pet by following these tips.
Use direct flights. You will avoid the mistakes that occur during airline transfers and possible delays in getting your pet off the plane.
Travel on the same flight as your pet when possible. Ask the airline if you can watch your pet being loaded into the cargo hold and unloaded.
When you board the plane, notify the captain and at least one steward that your pet is traveling in the cargo hold. If the captain knows that pets are on board, they may take special precautions.
Don't ever ship brachycephalic animals such as Pekingese dogs, bulldogs or Persian cats in the cargo holds.
If traveling during the summer or winter months, choose flights that will accommodate the temperature extremes. Early morning or late evening flights are better in the summer; afternoon flights are better in the winter.
Fit your pet with a collar that can't get caught in carrier doors. Affix two pieces of identification on the collar: a permanent ID with your name and home address and telephone number, and a temporary travel ID with the address and telephone number where you or a contact person can be reached.
Affix a travel label to the carrier on which you've written your name, permanent address and telephone number, final destination, and where you or a contact person can be reached as soon as the flight arrives.
Make sure that your pet's nails have been clipped to protect against them getting hooked in the carrier's door, holes, and other crevices.
Give your pet at the very least a month before your flight to become familiar with the travel carrier. This will minimize their stress during travel.
Do not give your pet tranquilizers unless they are prescribed by your veterinarian. Make sure your veterinarian understands that the prescription is for air travel.
Do not feed your pet for four to six hours before the trip. However, you can give them small amounts of water. If possible, put ice in the water tray attached to the inside of your pet's crate or kennel. (A full water bowl will only spill and cause discomfort.).
Try not to fly with your pet during busy travel times such as holidays and the summer. Your pet is more likely to undergo rough handling during hectic travel periods.
Carry a current photograph of your pet. If your pet is lost during the trip, a photograph will make it a lot easier for airline employees to search effectively.
When you arrive at your destination, open the carrier as soon as you are in a safe place and examine your pet. If anything seems wrong, take your pet to a veterinarian immediately. Get the results of the examination in writing, including the date and time.
Speak out if you see something.
Don't hesitate to complain if you witness the mishandling of an animal– either yours or someone else's– at any airport. Ask to speak with the manager of the section where the incident occurerd and report mishandling both in person and in writing.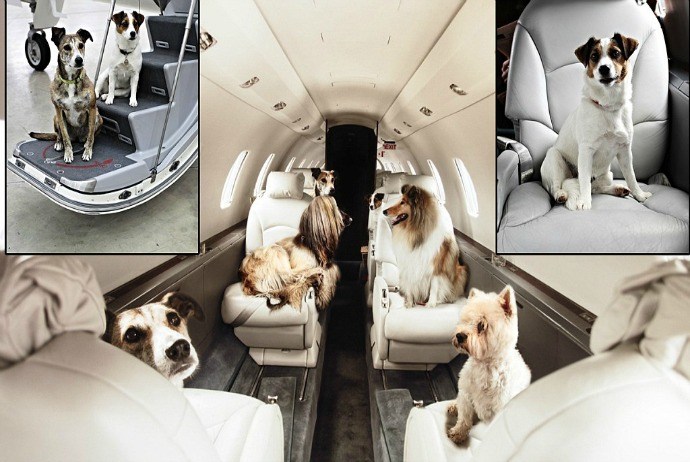 Traveling by ship with your pet.
Except assistance dogs, pets are welcome on only a few cruise lines– and usually on ocean crossings only. Some lines permit pets in private cabins, but most confine pets to kennels. Contact your cruise line earlier to find out its policies and which of its ships have kennel facilities. If you must use the ship's kennel, make sure it is protected from the elements and check on your pet frequently.
Traveling by train with your pet.
Amtrak now allows some pets on select trains and service animals are allowed on all lines. The HSUS supports the Pets on Trains Act (H.R. 674) before Congress that will allow Amtrak to permit passengers to bring their beloved pets on certain trains. Some smaller U.S. railroad companies may permit animals aboard. Many trains in European countries allow pets. Generally, it's the passengers' responsibility to feed and exercise their pets at station stops.
read more
What are the benefits of Clear Brace Technology like Invisalign and ClearCorrect?
TRADITIONAL METAL BRACES CAN SEEM BULKY, UNCOMFORTABLE, OR UNSIGHTLY TO MANY ADULTS.
However, there is no need to put off straightening your teeth because you don't want to wear traditional braces. Over 1,000,000 dental patients worldwide have successfully used clear braces to straighten their teeth in less time and greater comfort.
Clear braces consist of a series of transparent thermoplastic aligners that strategically shift your teeth into place in stages. Using the latest technology, your cosmetic dentist can calculate the optimal location for each tooth and even show you an image of the projected results before starting treatment. A beautifully aligned smile can increase your self-expression and make a positive impression on the people around you.
Compared to traditional braces, invisible braces cater to all types of lifestyles. Their transparency allows busy working professionals or public speakers to straighten their teeth without hindering appearance. Aligners may also be temporarily removed when playing a wind instrument, eating, brushing, or going to a special event. However, keep in mind that your clear braces will work faster and more effectively the more the aligners are worn. With invisible braces, you will not have to worry about mouth sores from uncomfortable wires and metal brackets. Clear braces are made of a smooth thermoplastic material that is form—fitted to your teeth for a natural feel.
Are Clear Braces Right for Me?
The two most commonly used brands of clear braces are Invisalign Braces and ClearCorrect. To determine whether clear braces are the best straightening system for your smile, visit with a qualified dentist who is an Invisalign or Clear Correct provider.
Clear braces can solve a range of dental and orthodontic problems, including the following:
• Overly Crowded Teeth
• Widely Spaced Teeth
• Overbite
• Underbite
• Crossbite
• Crooked or Turned Teeth
Invisalign or Clear Correct invisible braces have many advantages over traditional braces
If you are dissatisfied with the shape of your smile, or find yourself struggling with oral health, you might consider invisible braces. While clear braces systems differ slightly, the main procedure is the same:
• Find a dentist who is an Invisalign or Clear Correct provider to assess your smile and decide if clear braces will achieve the results you want.
• If so, your dentist will take impressions and images of your mouth, which are translated into a 3-D image of your smile.
• Using this image, a detailed treatment plan is created that determines where each tooth needs to shift for a perfectly aligned smile. You can view each stage of the straightening process and the projected results with your dentist before you even start the clear braces treatment.
• A high-tech computer system then designs a series of thermoplastic aligners that will shift your teeth in stages according to this treatment plan. Each aligner applies controlled force on specific teeth to gradually move them to achieve the best results. Each aligner is worn for about two weeks before switching to the next stage of the straightening process.
Invisalign vs. Clear Correct / ClearCorrect
Invisalign
As one of the longest standing clear braces systems, Invisalign braces have successfully straightened over one million smiles over the last several years with a 96 percent patient satisfaction rate. Invisalign is also widely known for its Invisalign Teen system, which is specially designed to compensate for the growth of teeth and molars. Invisalign Teen Braces include blue wear indicators to remind teens when to switch aligners, as well as six free replacement aligners. Invisalign aligners are formed to your teeth for a comfortable and smooth fit.
ClearCorrect
ClearCorrect is one of the newest and most affordable brands of invisible braces, using the latest digital mapping and molding technology. While most clear braces brands are virtually clear, Clear Correct applies a smooth surface finish to prevent aligners from clouding after sufficient wear. Clear Correct also offers dentists the option of ordering your aligners in phases, which allows for free midcourse corrections if the treatment plan needs adjustment.
If you need the best invisalign los angeles dentist be sure to checkout Dental Magic of Los Angeles
After Treatment with Clear Braces
After achieving beautifully straight teeth with invisible braces, you don't want to lose your smile. Talk to your doctor about after-treatment options. Every patient's teeth are different, but many patients receive a clear plastic retainer, positioner, or conventional retainer to maintain their smile. Most importantly, remember to maintain good oral hygiene habits such as brushing, flossing, and regular dentist visits.
Invisalign Los Angeles Invisalign Cost Los Angeles Invisalign in Los Angeles Best Invisalign Los Angeles Invisalign Dentist Los Angeles Invisalign Deals Los Angeles Invisalign Groupon Los Angeles invisalign reviews clearcorrect vs invisalign clear correct vs invisalign clearcorrect cost clearcorrect reviews clear correct before and after clearcorrect braces clearcorrect price clearcorrect vs invisalign cost clearcorrect.com clear correct retainer clearcorrect aligners
Save
Save
read more